Technology Exchange for Market Expansion, Embarking on a New Journey
S.L. Machinery Brick Machine Production Line Headed to the United States
金秋十月,正值收获的季节。三联机械迎来了一波美国订单发货的高峰,这也是三联机械在生产经营上的一个重大突破。
In the golden autumn of October, the season of harvest is in full swing. S.L. Machinery is experiencing a peak in shipments of orders from the United States, marking a significant breakthrough in the company's production and operations.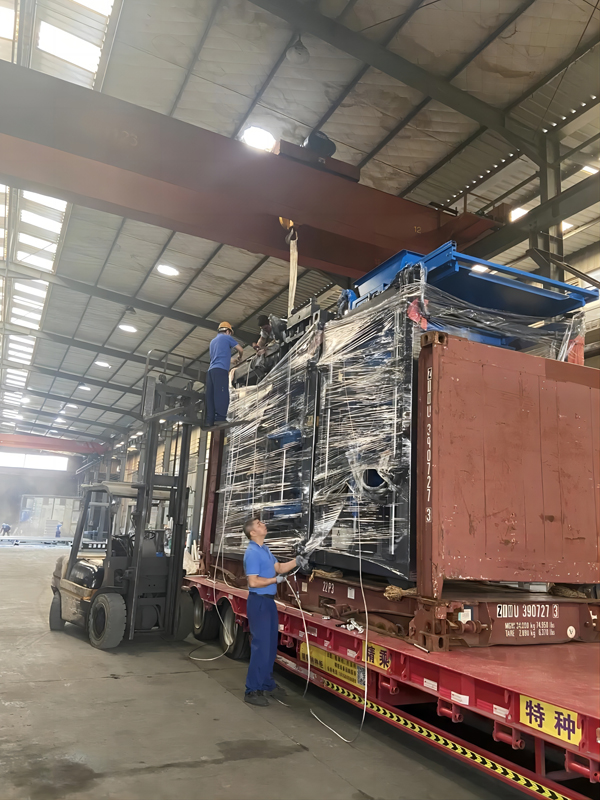 2023年3月,美国客户Z公司率团来访泉州,以"高效消耗固废材料,生产高端PC仿石/幻彩砖"的诉求开始了与三联多番会谈,精湛的技术,高端的设备,周到的服务最终成功获得了客户的认可与订单。
In March 2023, American customer Z company visited Quanzhou. They initiated multiple discussions with S.L. Machinery, sharing their demand for efficient utilization of solid waste materials to produce high-end PC imitation stone/mixed-colors bricks. Through the discussions, S.L.Machinery impressed the customer with their excellent technology, high-end equipment, and attentive service, eventually earning their recognition and an order.
由于是首次与三联机械合作,Z公司对于此次调试安装也十分重视,为了参与安装前技术培训,确保项目安装工作的顺利进行,先后多次派出了多名员工参与跟踪。最终落地的型号是三联机械SLST1200型全自动伺服墙地砖生产线,闭环式全自动流水线设计,包含配料、搅拌、成型主机、运转、养护、码垛、打包等多个部分组成。
As it was the first time collaborating with S.L. Machinery, Z placed significant emphasis on the commissioning and installation process. To ensure the smooth progress of the project installation, they sent several employees for pre-installation technical training. The final model chosen was the S.L. Machinery SLST1200 fully automatic servo wall and floor production line. This closed-loop fully automatic assembly line design encompasses multiple components, including batching, mixing, main molding machine, operation, curing, stacking, and packaging.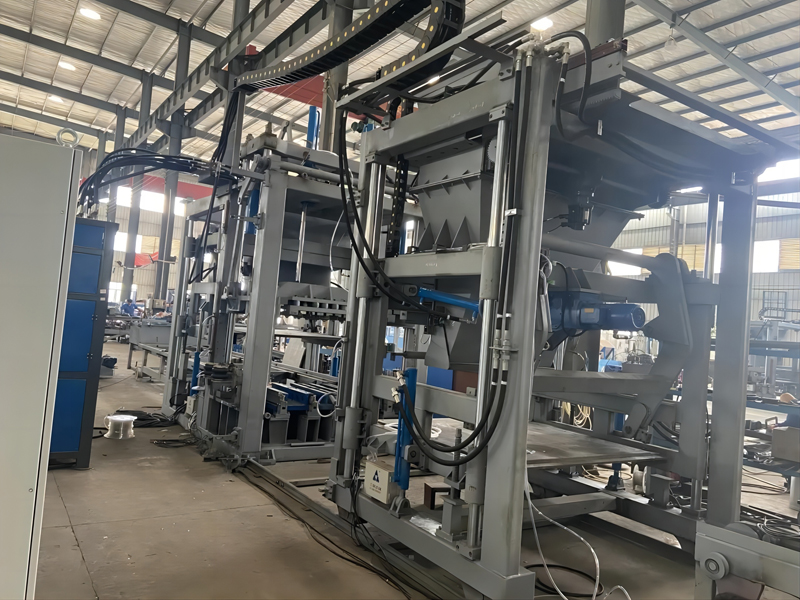 高端伺服砖机
High-end Servo Brick Machine
全线设备占地约2000平方米,支持3种颜色的幻彩砖生产,独有的专利技术,更换模具的速度在传统模式上提高一倍以上,应用的伺服控制系统、伺服液压系统,能节能降噪精准控料,机、电、液一体化系统,全自动化生产,一键出砖。其PLC系统控制准确,实现人机对话,功能齐全,手机云端实时监控。
The complete equipment occupies an area of approximately 2,000 square meters and supports the production of three different colors of mixed-colors bricks. It features unique patented technology, doubling the mold replacement speed compared to traditional models. It utilizes a servo control system and servo hydraulic system for energy efficiency, noise reduction, and precise material control. The machine integrates mechanical, electrical, and hydraulic systems, offering fully automated production with a one-touch brick production capability. Its PLC system ensures precise control and allows for human-machine interaction, offering comprehensive functionality, and real-time mobile cloud monitoring.
幻彩砖
MIXED-COLORS BLOCK
该生产线在原材料方面,使用建材固废,同时可添加粉煤灰、炉渣、钢渣、陶粒、珍珠岩等多种工业废料,经过多次试验,最终得到客户满意的产品。通过变换模具可生产多种混凝土建筑砌块,如幻彩路面砖、PC仿石砖、透水砖、建筑垃圾再生砖、空心砌块、路面板、路缘石、植草砖以及各种用于公园、机场、码头等不同用途的特种混凝土构件。
This production line uses construction waste as raw material and can also incorporate various industrial waste materials such as fly ash, slag, steel slag, expanded clay, and perlite. After multiple trials, it successfully produces products that meet the customer's satisfaction. By changing the molds, it can produce various types of concrete construction blocks, including mixed-colors pavement bricks, PC imitation stone bricks, permeable bricks, recycled construction waste bricks, hollow blocks, pavement slabs, curbstones, grass planting bricks, and various special concrete components for different applications in parks, airports, ports, and other areas.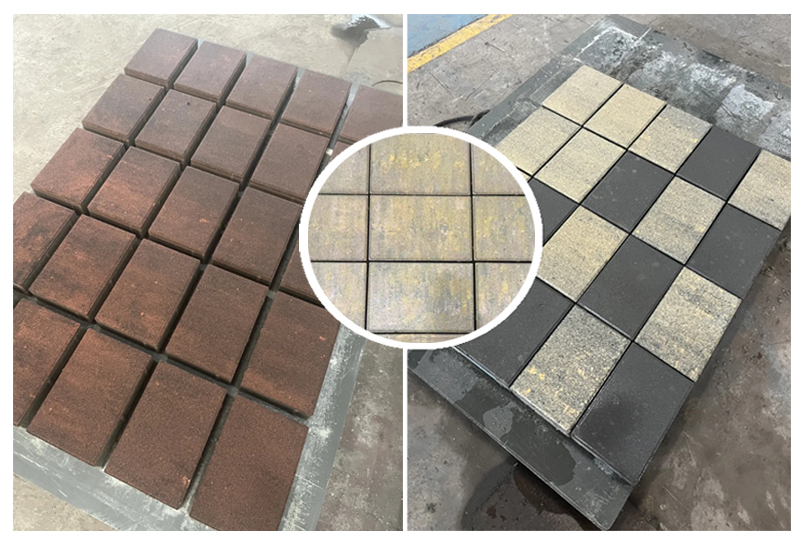 权威认证
Authoritative Certification
值得一提的是,本次发往美国的SLST1200型全自动伺服墙地砖生产线,通过了国际权威UL认证,采用欧洲原装进口部件,安全防护等级高,操作安全,适应各种复杂生产环境,独特IP68防水防尘设计,可延长使用寿命。
An important note is that the SLST1200 fully automatic servo wall and floor block production line being shipped to the United States has obtained international UL certification, using original European imported components. It boasts a high level of safety and protection, making it suitable for various complex production environments. With its unique IP68 waterproof and dustproof design, the equipment's service life is extended.
UL标志是美国以及北美地区公认的安全认证标志,贴有这种标志的产品,就等于获得了安全质量信誉卡,其信誉程度已被广大消费者所接受。可以说UL标志是进入美国以及北美市场的一个特别的通行证。也是三联进军国际市场的必要条件之一。
The UL mark is a recognized safety certification emblem in the United States and North America. Products bearing this mark are considered to have a 'safety quality reputation card,' and their credibility is widely accepted by consumers. It can be said that the UL mark serves as a special pass for entering the American and North American markets and is one of the essential requirements for S.L. Machinery to expand into international markets.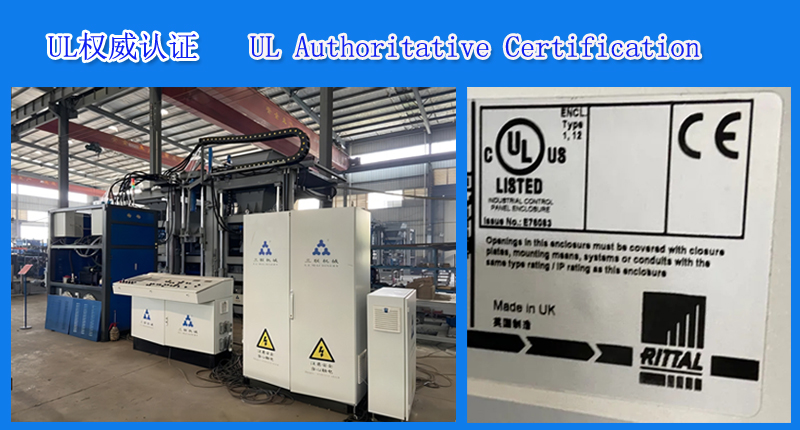 从接到订单到设计、生产、调试发货,用了半年多的时间,可以说SLST1200型全自动伺服墙地砖生产线结合了三联机械近30年的机械制造经验和配方工艺经验,为生产混凝土产品提供了可靠的性能,从制品尺寸公差到混凝土密实度等各项指标均可得到实现,设备造型设计精美、大气,操作简单、运行平稳,能为客户经济效益提供有效保障。
From receiving the order to design, production, debugging, and delivery, it took more than half a year. It can be said that the SLST1200 fully automatic servo wall and floor block production line combines nearly 30 years of mechanical manufacturing experience and formulation process expertise from S.L. Machinery. It provides reliable performance for concrete product manufacturing. It achieves all the critical indicators, from product size tolerances to concrete density. The equipment boasts an exquisite and elegant design, user-friendly operation, and smooth operation, effectively guaranteeing economic benefits for customers.
接下来,三联机械也将以此为契机,深耕欧美高端市场,不断加速企业全球布局,加速更多的"南安造"砖机设备出海。
Furthermore, S.L. Machinery will take this opportunity to deepen its presence in the high-end markets of Europe and the Americas. The company is committed to accelerating its global expansion efforts, facilitating more 'Nan'an-made' brick machine equipment to go international.